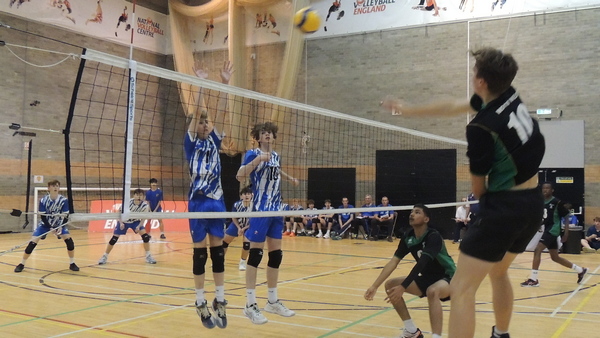 Each year we ask a number of our Torexe youngsters to report back on their Inter Regional Championships experience, today we focus on Alex Johnson (Number 10) who was selected for the SW U15 Squad.
Early on the 27th July: Everyone being picked up from Tiverton (2 fellow U15 players, me and 5 of the U17 players) arrived before 10:15AM, but because of traffic etc the bus ended up arriving over an hour late to our stop. This did cause everyone else to be picked up slightly late, but we managed to make it to Bristol (the final pick-up point) by the planned time.
When we arrived at Bristol where we picked up the last people, we had a 20-minute stop to get food etc, and then we were off in our own buses (1 U-15 bus and 1 U-17 bus). Now we were in our separate bus we blasted our music in the bus as we sang along. After what felt like a very short 2 and a half hours we were at Kettering where we went straight to the hall without dropping our stuff off at the hotel. While we were there, we watched both Southwest girls' teams play their last pool matches.
Once their games were over, we jumped back on the bus and headed to the hotel (a 5-minute drive from the hall) where we got our room keys, unpacked and then we headed straight backout to eat dinner at a restaurant nearby. The food was great. Once we had finished, we headed back to the hotel.
When we got back to the hotel, me and some of my teammates went to raid the local Spar (around the corner from the hotel). We then had a few hours of social time and a meeting where we received our kit for the next day before we settled down for the night.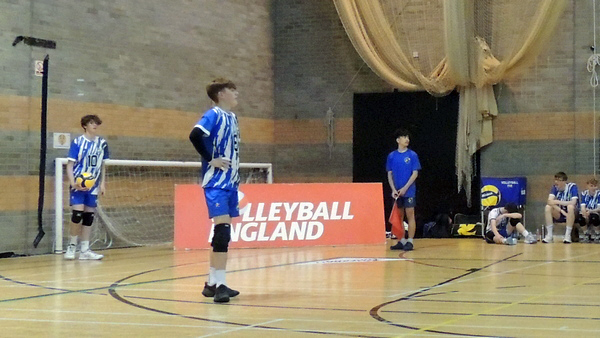 The next morning, we woke up at 8:15 where we went down to the lobby to fill up on a great breakfast of toast, scrambled eggs, sausages, bacon and baked beans. After that we went backup up to our rooms to grab our stuff and we were off.
Next, we headed to the hall. When we arrived, we watched both the U15 and U17 girls' teams play in 3rd to 4th playoff, both teams sadly lost and placed fourth in their age groups. A pretty great placing. We then got our teams pictures taken by professionals and got prepared for our pool games to start.
Our first game was against Northwest where we sadly lost the first set through lots of mistakes, but then quickly stepped up and got our heads in the game before easily winning the next 2 sets, overall winning us the match. We then had a quick chat about the game before we scored and refed our first game of the competition.
Straight after that game had finished, we got on the court, and warmed up ready for our second game against Yorkshire. We went in expecting to win but sadly went on to lose straight sets against their fast-paced playstyle. Non the less we had our heads held high ready for our next day of games.
After another quick briefing we headed back to the hotel for a quick shower before leaving for the restaurant. We then spent the rest of the evening in the restaurant (eating, talking and taking turns playing on the pool table they had). Once we arrived back at the hotel at 10:30 we all went back to our rooms to settle down and go to sleep.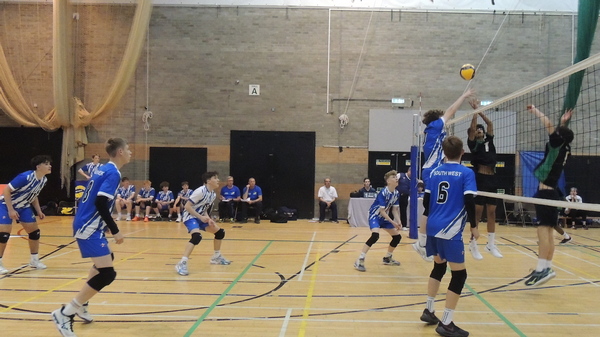 We woke early the next morning for a quick breakfast and to pack our bags before checking out of the hotel. Once we had checked out, we headed to the hall to finish our last pool game. After arriving we warmed up and played our first match of the day against West Midlands. We easily won the first set 25-18, lost the second to a close 23 – 25 and finally won the 3rd set securing our place in the semis. Extremely happy we went upstairs to eat lunch (sandwiches with crisps, biscuits and granola bars). As we ate, we watched London play Southeast as we were eager to see who we would play against in the semi-finals. After a very intense game between the two. London won.
We knew we would have to step up our game and give it our all to beat London, the reigning champions, so after an hour-long break we went into the next game against London ready to give it our best against the giant players and the favourites to win the whole tournament.
We started the match strong winning the first 3 points. Unfortunately, they then started to rack up the points but at that moment we took a great time out at 9-4 shutting down their streak and putting us back in the game. They then got another streak turning a score of 11-8 to 18 -11. Where we took another well-placed time out. After trading points, they won the set by a close 25-22.
After the tight set we knew we would have to reduce our serving and server receive errors to win. Still believing we could beat them as we were playing the best, we had so far in the tournament we started the next set. But sadly, after an even tighter second set and almost making it a deuce after getting 3 points in a row from 24-20 we sadly lost the set 25-23 sending us to the 3rd 4th playoff against West Midlands.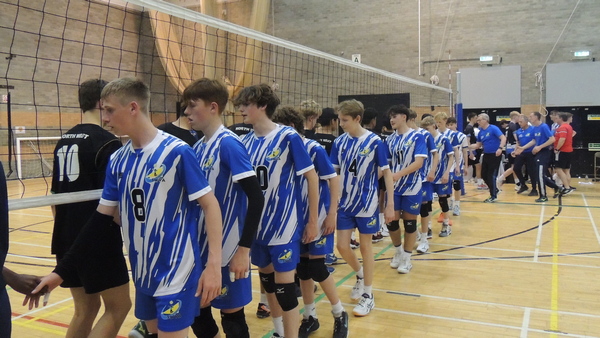 After the devastating loss against London, we watch the U17 team beat East and make their way to the final against London. We then headed into our next game against West Midlands not feeling too positive after missing out on the final. This stopped us from playing our best, but we still gave it a go but sadly lost the first set (28-26). The second set wasn't as close as we ended up losing (25-21) putting us in 4th place out of 9 teams.
After the game we had a chat about our performance and what we had achieved, and how we had improved greatly from last year's placing of 7th. After this we watched the finals of the U15 and U17 boys. It was a great achievement by the Southwest U17 team to come 2nd.
After the achievement ceremony we got changed and headed back to the southwest on a very quiet bus. We were all worn out from the 2 days before and some of us even slept on the way back. Overall, 4th is a pretty good position. Even though we were distraught at us missing out on the top three we were overall proud of what we had achieved and delighted at our improvements since our first outing at Exeter challenge. I can't wait to play with the U17's next year and I aspire to do even better.
I would like to thank the people who planned for training, transport, food and where we would be staying. And another thanks to the coaches for the opportunity and helping us improve and prepare for the tournament.
Alex Johnson