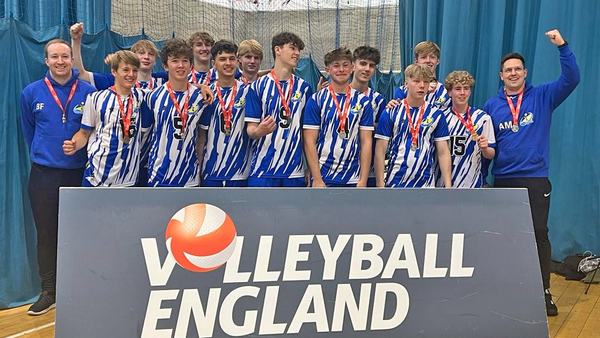 Each year we ask a number of our youngsters to report back on their SW IRC experience, today we focus on Harry Brett  (SW Number 4) from our U17 Boys Squad.
On the 28th and 29th of May 2023, I was selected to represent South West at the Inter-Regional Championships (IRC) in Kettering. This was My second year at the event however this time I was competing in the U17s tournament.
After a very long drive on the 27th of May, we arrived in Kettering. This allowed us to get a full night's sleep in preparation for the games on the proceeding day and watch the girls' final pool matches before the knockout stages the next morning. In the evening we used the time to get all of our kit and have a quick chat about our opponents tomorrow afternoon.
The next morning we woke up early and prepared by having a carb-filled breakfast so that when our games began we'd have plenty of energy to use. On arrival at the national volleyball centre, our team first watched the girls' knockouts, unfortunately both SW teams lost in the semi-finals but had done extremely well to get there. We made sure to have an extensive warm-up before our first game as it was against London, which we believed would be our hardest game of the tournament.
In our first game, we came out strong with a consistent tempo and a good game plan. Nevertheless, we were unlucky as we dropped the first set our heads fell and this concluded with us losing in straight sets, however knowing this would most likely be our hardest game we were still confident going into game 2. Entering our final game of day 1 we had gone over our mistakes in the first game and took these into account when playing the East Midlands.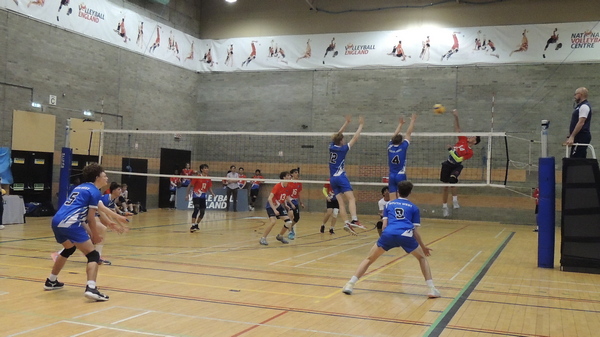 This game was tough to begin with, but we made sure to up our level and as a result, we played tremendously winning in straight sets, which was a nice result following our defeat. Personally, I quite enjoyed this game as I got a huge ace on set point. We had now finished the games for day one and had settled into playing as this was only the second time we'd played together in a competitive scenario.
We had to be up early the next day as we had to referee at 9am. We took this as an advantage as we would be more awake than our opponents who didn't need to arrive until the game against us. On the previous day we had watched the North-West team and from the footage we assessed that they had strong wide hitters and they also defended deep, this led to us using tips to win many points.
In the first set, We came out strong and outclassed our opponents with a variety of different attacks and a well set block which they struggled to get around. However, in the second set we became complacent to begin with, which led to them gaining an early lead which stuck with them for most of the set. Nevertheless after a tactical timeout at 14-18 to them we turned the set around to complete our second 2-0 victory. This win lead us to being second in the pool which meant we were through to the semi-finals.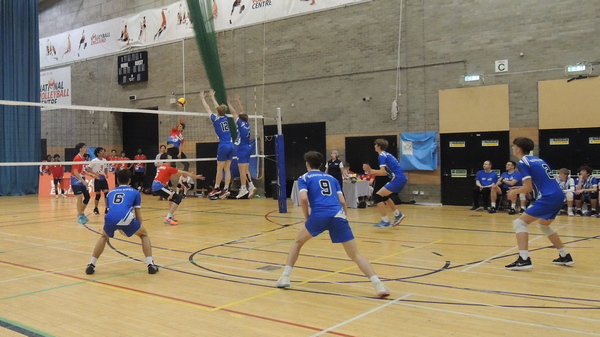 Now we had made it through the group stages, we were eager to find out who we were matched up against so went to spectate the other pools game. East Vs South East, this was an important game as it would determine who we would face. East came out victorious so that was our next game.
Before our semis we had prepared ourselves as much as we could; this team were the reigning champions so we came in as the underdogs. The Start of the match was good, we kept our cool and stayed confident as we gained an early lead through a spell of good serving. With this momentum we ploughed through them into winning the first set. The second set started even better through the use of our strengths we amassed a plentiful lead heading into the closing points of the set we were 24-20 up.
Then, through an unlucky spell of hits just going out paired with an unfortunate rotation error, we ended up losing the set 26-24. Despite this we still knew we should've won and took this forward as a boost going into set 3. So with a first to 15 final set we were in for a tough path to victory as the crowd was going and the air was tense as each point went over the net. Being the first team to 8 we had an advantage going into the side change which would benefit us going into the deciding points which after a hard fought battle we came out winners and into the final against London.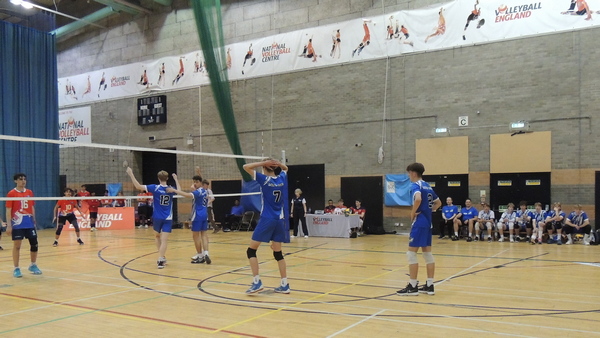 The buildup to the finals were tense, we knew to win we'd have to further up our game to another gear which we had but as a team we were knackered from the semi-finals. Despite this we brought a winning mentality into this game. The first set was unideal, we didn't play through our strengths and this led to us being lucky to win each point and this unfortunately ended with us conceding the first set.
However, still hungry to win we played a better game in the second set shutting down their hitters and hitting through their defence. This set was extremely close with many points being long rallies which increased the tension as we traded points. This was until they got a small streak and the score was 24-20 to london. I was now up to serve and the crowd was alive and we managed to claw it back to 24-24. At this point the suspense was unreal, in my opinion both these points felt like they were endless. Unluckily we lost both points meaning london won the second set. However this performance was a massive improvement on the first outing so as a team we weren't fully disappointed with runners up.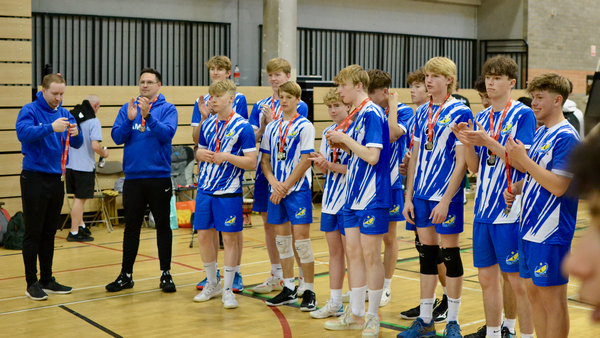 With this being many players on our team's last Inter-Regionals they were delighted to get a medal as it is a memory of the great performance which we had at this tournament. Going from 7th place in the previous year to placing 2nd place and beating the reigning champions in a Semi-Final which was truly incredible and a match to remember. I will be looking forward to next year in the u17s and aspire to do even better.
Harry Brett